8 Questions to Ask Your Orthopaedic Surgeon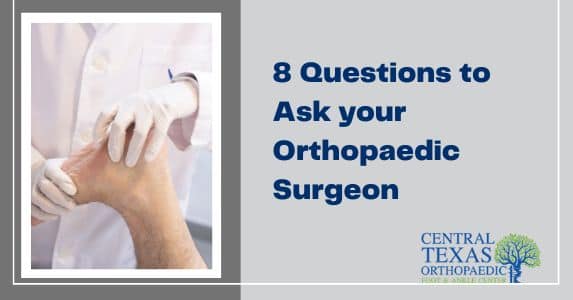 If your orthopedic doctor has recommended surgery to fix a joint or bone problem, it's natural to have some concerns and lots of questions for your surgeon.  You want to be sure that you are making the best decision for your health and lifestyle and to also have a good understanding of what life after surgery will entail. 
Questions you may want to ask include the experience of the provider, success rate of the recommended procedure and how long the recovery will take. These questions help manage expectations and help you plan for time off from work or any additional help or care you may need during recovery. 
We've put together a list of 8 questions to ask your orthopaedic doctor to help you make a more informed decision and put your mind at ease. 
1.
What is the surgeon's experience with treating my specific foot or ankle injury?
It can be beneficial to know how experienced your foot or ankle surgeon is in treating the specific condition you are being treated for. If you don't feel comfortable with the experience level of the doctor, you may want to get a referral to another surgeon and get a second opinion.
At Central Texas Orthopaedic Foot and Ankle Center, you can read more about Dr. Bednarz here.
2.
How often does the surgeon perform this type of surgery?
The answer to this question will help you understand how common this surgery is and how long the surgeon has been performing the procedure. Look for a specialty orthopedic doctor such as one that focuses only on the foot and ankle or the specific joint or bone you affected.
3.
What are the surgeon's success rates with this type of surgery?
It's important to understand what the intended outcome of the surgery is and what probability of success you can expect. You should also ask what factors might impact the success rate of the surgery.
4. What are the risks and complications associated with this type of surgery?
Know the risks of the procedure and any potential complications. A professional staff will review all of the potential risks and complications associated with any medical procedure. Ask what may increase those risks and what tests will be done before the procedure to identify any risk factors.
5. How long will it take me to recover from this type of surgery?
Understanding the average recovery process allows you to let your or employer know how long you may miss work or need additional help at home. It's good to ask if you will need follow up therapy after the procedure and will have additional appointments to plan for.
6. What are the restrictions that I will need to follow after this type of surgery?
Restrictions can be anything from not being able to drive for a period of time or having to be on bed rest to having your foot elevated for an extended period of time. Will you need any special equipment such as a knee scooter to assist in mobility if you cannot put weight on the foot? Is that equipment provided by the surgeon or will you need to arrange it? It's important to understand what these restrictions will be so you can determine what assistance you may need.
7. When can I expect to see results from this type of surgery?
Understanding the recovery timeline and what the pain will be like after the surgery will help manage expectations. Will you see results right away, or will it take a few months before the results are realized?
8.
What is the cost of this type of surgery?
Your provider's office should calculate and give you an estimate of the cost of surgery and the portion of expected insurance coverage. We recommend that you confirm these details with your insurance company.
At Central Texas Orthopaedic Foot and Ankle Center, we have put together a page of patient information resources that should answer many of these questions. Please do not hesitate to call our office with additional question or to schedule an appointment.