When To See an Orthopaedic Doctor Instead of a Primary Care Physician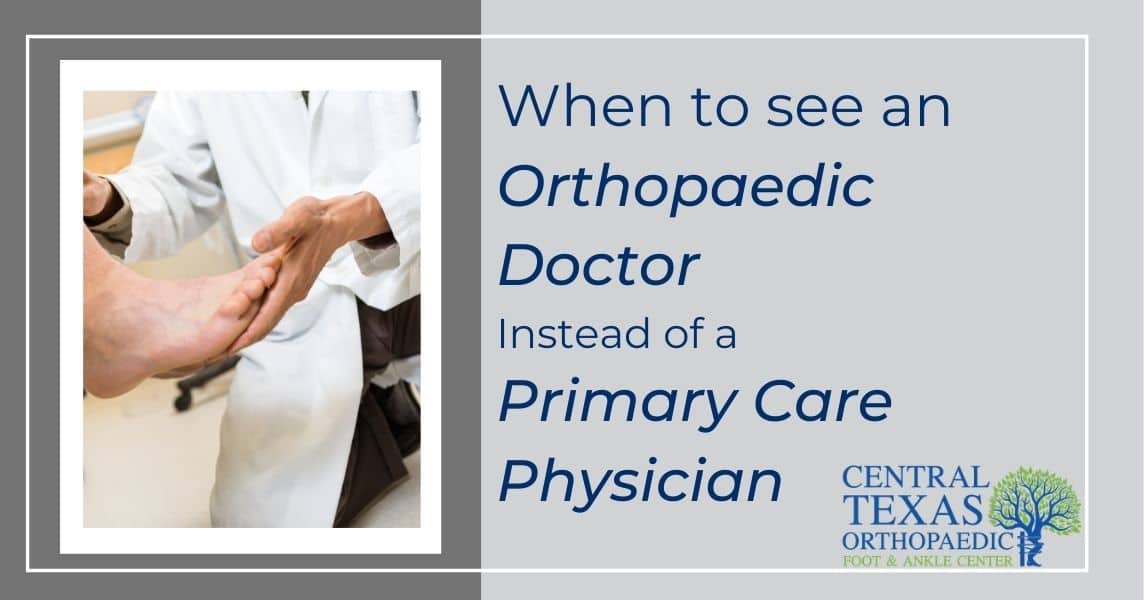 Sickness and injury are a part of life. Depending on the severity of the injury or symptoms, you may need to see a doctor. In many cases, your primary care physician can address the health issue effectively.
But in some cases, you may need to see a special doctor, one with training that focuses on certain diseases or conditions. One such doctor is an orthopedic doctor. This article explains when to see a primary care physician and when to see an orthopedic doctor near me.
When To See a Primary Care Physician
A primary care physician is a doctor with training to diagnose, prevent and treat various injuries and diseases in the general population. This doctor provides comprehensive care and deals with acute medical conditions (asthma attacks, burns, etc.) and chronic conditions (heart disease, type 2 diabetes, etc.).
The healthcare settings in which primary care physicians can practice include
medical clinics
private practices
group practices
inpatient/outpatient healthcare settings
long-term care facilities
The full range of medical services is accessible to you when you visit a primary care physician.
When To See an Orthopedic Doctor
If you have the following health issues, you may need to see an orthopedic doctor
Swelling or pain in a muscle, bone, or joint that's recurring, persistent, or unresponsive to home remedies
A significant decrease in the range of motion or mobility of a joint
Difficulty performing daily activities
Nerve-related symptoms, such as a pins and needles sensation in your limbs
An injury to a muscle, bone, or joint that needs specialized attention
The duties of an orthopedic doctor include
Diagnosis and treatment of musculoskeletal conditions
Assisting with rehabilitation to help you regain strength, movement, flexibility, and range of motion following surgery or injury
Recommendation of strategies to manage chronic musculoskeletal conditions or to prevent further injuries
Some of the musculoskeletal conditions that orthopedic doctors treat include
muscle strains
bone fractures
carpal tunnel syndrome
arthritis
joint or back pain
bone cancer
injuries to ligaments or tendons
limb abnormalities
Training and Qualifications of Orthopedic Doctors

An orthopedic doctor, also referred to as an orthopedic surgeon or orthopedist, specializes in orthopedics. This medical field focuses on the musculoskeletal system, which includes
muscles
bones
nerves
joints
tendons and ligaments
In the United States, one requires up to 14 years of education and training to become an orthopedic doctor. The education and training include
A 4-year undergraduate program at a university or college
4 years of medical school
A 5-year residency that focuses on orthopedics
A 1-year fellowship to subspecialize in one area of the musculoskeletal system (e.g., foot surgeon or ankle surgeon)
Following completion of their education and training, orthopedic doctors must pass a certification examination to confirm their proficiency in the medical field. The American Board of Orthopaedic Surgery and the American Osteopathic Board of Orthopedic Surgery administer this examination.
Orthopedic doctors must renew their certification every 10 years by undertaking continuing education courses and completing exams.


Call an Orthopedic Doctor for Your Foot and Ankle Pain


You now know the difference between a primary care physician and an orthopedic doctor. If you experience health issues, such as foot or ankle pain, that warrant a visit, call Central Texas Orthopaedic Foot and Ankle Center in Waco and Gatesville, Texas to request an appointment today.