Summer Footwear- Smart Choices for Pain Free Feet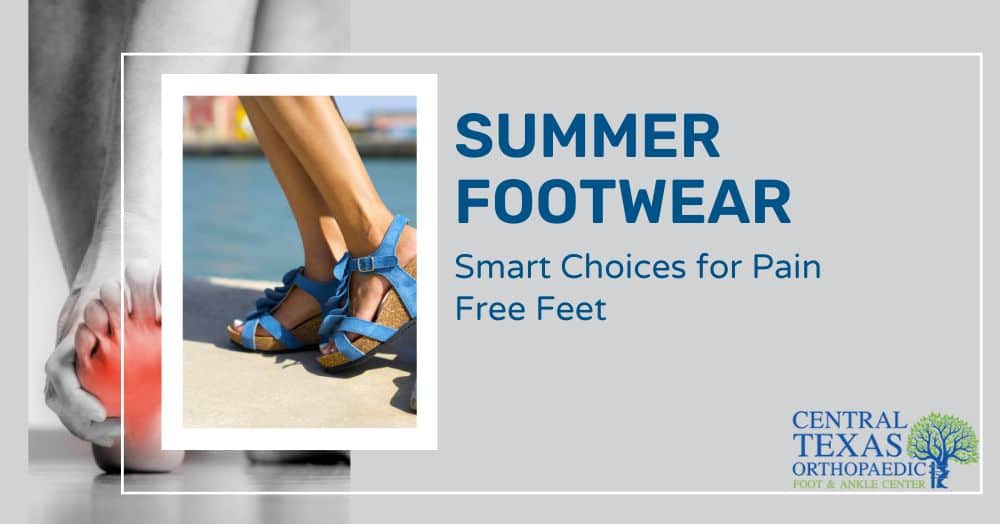 Few things say "summer is here" like outdoor fun and summer footwear!
Enjoying the long, sunshine days of summer is a great way to shine from the inside out. As walking and other outdoor activities increase, proper footwear is essential in summer. Wearing the appropriate shoes will support each stride, and reduce or even eliminate pain allowing you to enjoy more fun in the sun all summer.
Summer staples like flip-flops and sandals do not have to leave your feet feeling overworked, sore, and depleted. Several great footwear options will keep your feet cool, stylish, and pain-free. The key is knowing what to look for when shopping for summer shoes. Below we listed a few insider tips for footwear that will have your feet feeling and looking great.
Flip-Flops
No shoe is a more significant summer icon than easy, breezy flip-flops."Flops" say summertime better than any other footwear. They are best for poolside idling, beach lounging, and short walks. Since they do not offer a lot of arch support or cushion to absorb the impact of each step, flip-flops are not recommended for prolonged wearing and can worsen pre-existing foot pain.
If you cannot resist this sunshine-loving shoe, be sure to get a high-quality flip-flop with arch support and a thick sole. Ones we like are the Hoka Ora Recovery Flip and several options from OOFOS for men and women.

Sandals
Whether you prefer slides, strappy sandals, or anything in-between, sandals are a summer classic. They are fashionable, light, and versatile. For the best fit and support, look for sandals with contoured footbeds that follow the natural shape and arch of the foot. An ideal sandal also has a cushioned midsole and heel cup – a slightly raised edge that helps cradle your heel and keeps your foot stable. Materials like soft leather can reduce skin irritation and rubbing that can lead to corns or calluses.
There are many orthopedic sandal options to choose from that will help prevent and reduce foot discomfort.
Prevent Foot Pain
The stress on the foot from inadequate support and shock absorption, common in most flops, can cause feet to feel worn out and more serious ailments like plantar fasciitis. Plantar fasciitis involves inflammation of the tissue on the bottom of your foot. The condition can cause pain and even impact the way you walk. Flip-flops are great summer shoes, but if you're going for more than a short trek, the sandal may be a better option for you.
Thick layers of skin can develop when your skin tries to protect itself against the rubbing and pressure from improper-fitting sandals. The resulting protective layer of skin, commonly called corns or calluses, can be found on the toes, balls of the feet, or the heel. Though usually treatable and not painful, corns and calluses can be unsightly and become infected. If your feet start to hurt or persistent thick skin develops, you should seek the opinion of a doctor. Generally, over-the-counter medications and simple remedies can help, but in rare cases, surgery is needed.
If you're experiencing persistent foot pain or inflammation, don't hesitate to consult with an orthopaedist. If you live in Central Texas, give CTX Foot and Ankle Center a call at 254-313-9559 to schedule an appointment with Dr. Bednarz and start your journey to get relief from your foot pain today.